1stroke fagbog: Business Casen 361° – hele vejen rundt om gevinstrealisering
1strokes stifter Martin J. Ernst er medforfatter til bogen; Business Casen 361° – hele vejen rundt om gevinstrealisering. Bogen stiller skarpt på, hvordan organisationer kan anvende business casen som et aktivt styringsværktøj til at understøtte gevinstrealiseringen. Bogen giver en grundig gennemgang af de metoder og teorier, der skal i spil for at udvikle en solid business case. Den identificerer og forklarer de processer, som er nødvendig for at afdække og realisere projekters værdi – fra den overordnede forretningsstrategi til projekternes enkelte aktiviteter.
Læs mere på businesscase.dk, hvor du også kan købe bogen.
Book in English: Mastering the business case
A book for business people and students to become better at benefit management and mastering the business case.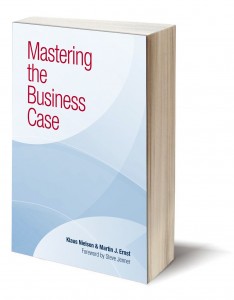 There are several studies, and even more articles, about why projects fail. One of the root causes of the failed projects was unclear business objectives. These business objects are documented in the Business Case, and include 'why we are doing this initiative'. If the Business Case is missing, the project manager and all of resources related to the project have no clear guidance.
Hopefully, this book will spark an interest in learning more about the Business Case and about Benefits Management, including Business Management, Stakeholder Management, Change Management, Financial Management, Risk Management, Financial Management and Presentation Management – all supported by national and international standards and the tools supported.